Cheer Has Big Win at Nationals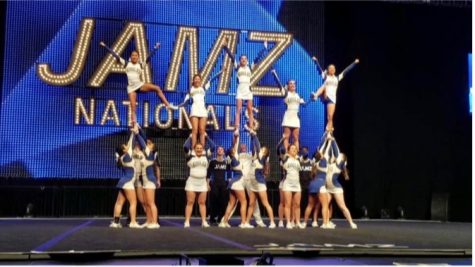 The competition cheer team worked hard in order to get to nationals and obtain first place. They were dedicated to coming into practice all week until the big weekend approached.
"We joined the team and practiced everyday for about two hours, for four to five times a week," said senior Aspen Kane.
While preparing for nationals, the members and coaches faced some struggles, such as finding a place to practice and having the materials that they needed.
"We often came into these competitions at a disadvantage; many other schools provide their cheer programs with their own facilities, mats and competition-size floors to practice on," Clark said. "It's been of great benefit to us to have the use of the wrestling room and their mats."
During the week of nationals, the cheer team attended a gym where they were able to practice for the big weekend on a competition-sized floor.
"The week of nationals, the team prepared by going to a local all-star gym to rent a competition size floor for practice," said Clark.
While the members were performing, many emotions were going through their minds because they were nervous and excited to see what their hard work would bring them.
"We were all super, super anxious and super nervous, but also very excited, we were very eager to win," said Kane.
Before and during nationals the team was confident in themselves and believed that they would and could win because of the routine that their coaches created.
"Our coaches made a fantastic routine with all of our different stunts and it was the perfect level of skills because each division has a certain skill level to meet for our stunts and we met those, so the coaches did an amazing job with the routine," said Kane.
After they received their white champion jackets, the team had a burst of excitement, tears of happiness fell, and they knew that all their hard work had paid off.
"So excited, everyone was crying [of excitement], we were so relieved all of our nerves just went away. We put all of our hard work, blood, sweat and tears into that and it was just really rewarding," said Kane.
Clark has one goal for the future competition team. She hopes to return to nationals and win for a second time.
"We intend to get our second white jacket with a repeat in 2020," said Clark.
About the Writer
Lucia Ayala,
Lucia Ayala is 16 years old and attends San Pasqual High School as a junior. This is her second year in journalism and she is now an editor. Lucia enjoys...