Girls Wrestling Starts A New Season
Alexis Quiroz, Staff Writer
December 7, 2018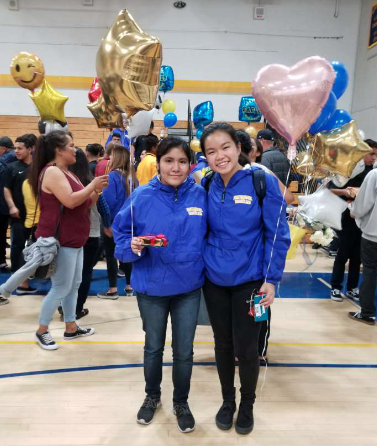 Girls Wrestling tryouts are finally over, which means the new season is starting soon.
Iliana Olea and Gaby Grimaldo are excited to continue with their wrestling careers after joining during previous years. Olea in particular is eager to start and end this season strong, especially since this is her last year at San Pasqual.
"This is my second year [in wrestling]," said Olea. "I'm looking forward to getting better and to place at tournaments."
Olea admits her cousin was actually the one who got her to try out.
"My cousin Maria kept insisting that I join wrestling or at least see one of her tournaments, so I decided to go," said Olea. "My cousin is kind of my role model in wrestling and is someone who can help me when I struggle."
After Coach Harris and her cousin insisted that she tried it, she later fell in love with the sport.
"I ended up enjoying it, it was a huge stress reliever for me," said Olea. Olea says she hopes to have a fun time this year. "I really just hope to have a fun and stress-free season with all of my friends on the team," said Olea.
As far as any life-changing lessons, Olea confessed that her experience in wrestling has helped her with body confidence.
"I was more comfortable with my body, thanks to the girls on my team," said Olea.
Body confidence and self love may take time, but with the help of other people it's not impossible.
"Most girls think they can't do it because of their body types, but that doesn't matter," said Olea. "On the team there are girls of all body types and shapes."
She jokes that the uniforms aren't like the costumes on TV.
"I know some girls don't do it because of the outfits, but they aren't like the ones you see on TV!" said Olea.
Olea also mentions that she would have started earlier if she knew she would enjoy it this much.
"If I knew it was going to be this fun and helpful, I would have joined sooner!" said Olea.
After being in wrestling for almost four years now, Gaby Grimaldo has seen her team grow more and more each year.
"There's definitely more and more girls joining every year, our team is fairly large for a girls wrestling team," said Grimaldo. "I joined because my friends persuaded me, and I fell in love with the sport."
Grimaldo is excited to experience a new season with more wrestlers.
"I'm looking forward to building each other up as a team and to taking CIF for a second year in a row!" said Grimaldo.
She personally shares that her teammates have always worked to help her grow.
"Everyone is so accepting," said Grimaldo. Wrestling is important to me because in it, I've met some of the greatest people I know!"
Grimaldo was quite keen on giving her advice to new teammates this year.
"Even when it seems too hard, keep on trying because I guarantee you'll fall in love with the sport and you'll always find girls there, ready to support you."