Boys Golf Tees Off On the Season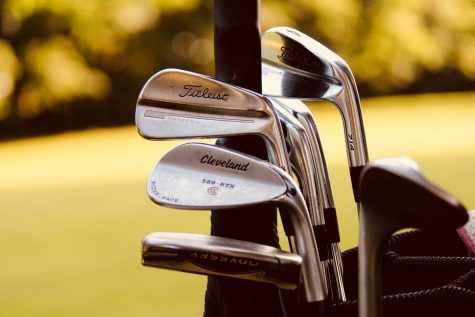 San Pasqual High School is nearing the final months of the 2018-2019 school year, which means that spring sports, including boys golf, are in action.
The varsity boys golf coach, assistant football coach, social studies teacher, and health/CCR teacher Vincent Silva recaps this year's tryouts on February 4th, and reveals the hopes and goals he has for the rest of the 2019 boys golf season: "Tryouts went well. We had several students come out with various levels of skill. Each student participated in a skills clinic and we determined which students were best able to contribute to the program," Silva said. "We ended up making a few cuts. Unfortunately, we cannot keep everyone, as that would limit our students' ability to play in matches and gain experience."
Winning the California Interscholastic Federation championships, also known as CIF, is a goal many teams and coaches set out to accomplish by the end of the year. Coach Silva has been able to achieve this in the past couple of years, but hasn't been able to send a full team to CIF yet, which he plans to do this year and is the big goal he plans to accomplish.
"Our goals include winning the league championship and sending a full team to CIF. Two years ago, only one player qualified for CIF, last year three players qualified. I feel that we have the talent to accomplish sending a full team to CIF (6 players) and winning league, so it should be an exciting year," Silva said.
Varsity golfer and junior Nick Maldonado has been playing golf for about nine years now and has faced several tough opponents throughout his golfing journey, but has continued to maintain a good spirit and an even better level of sportsmanship all throughout.
"I consider everyone a tough opponent and play them all the same, but my toughest opponents [last year] were the seniors, but they're gone now and it's time for me to step up my game," Maldonado said.
Before matches, anxiety or nervousness is expected, especially when it's the first one of the season. Since Maldonado has nine years of experience, he has a steady hand when it comes to that first stroke.
"[Before a match] I usually just follow my normal practicing routine and just try to take it as usual and not get nervous and play my best," Maldonado said.
Maldonado also played on the varsity team as a sophomore, and even made it to CIF, which is something he would also like to achieve again this year and place as the top player.  Until then, Maldonado still has quite a few matches to play and prepare for before the end of the season.