The XFL
Although the Chiefs Super Bowl victory signals the end of another NFL season, professional football is hardly over.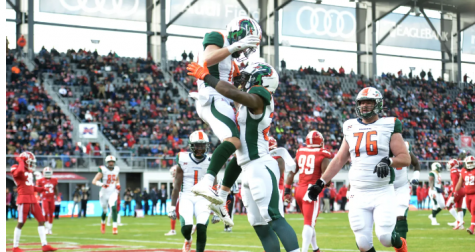 The XFL, which had a short stint in 2001, has now returned! This means we get to continue watching the beloved game of football during the Spring and Summer, while the NFL off season continues along. The league has two divisions, each comprised of four teams: the Los Angeles Wildcats, Seattle Dragons, Houston Roughnecks, and Dallas Renegades in the west, while the east includes: the DC Defenders, New York Guardians, St. Louis BattleHawks, and the Tampa Bay Vipers.
The league is hoping to bring new energy to the game of football, "The XFL is a brand new, fan-first league that's re-imagining the game of football and offering fans an opportunity to experience more action, access and fun" is posted on the first page of the new league's website. The league looks to draw fans and viewers based on the league's official motto, "For the love of football." The games are face-paced, described as "less stall more ball," as quarters are structured differently and overtime has been completely redesigned. The officiating rules have been tweaked as well. In the XFL, there is an official whose sole purpose is to spot the ball after each play concludes. Although this might seem like a minuscule change, in the course of a football game this saved time can greatly add up.
Furthermore, the league has put a huge emphasis on the safety of its players. It is still football, and big hits do still occur between downs. However, the rules for kickoffs and punts have been changed to greatly reduce the impact of hits on these plays, as these are statistically the most dangerous plays for the health of players. The most notable change in this regard is the movement of players on a kicking team during a kickoff. Rather than lining up next to the kicker and running down at the opposing team, players on the kicking team will now line up on the receiving teams 35-yard line, while the receiving team lines up on their 30-yard line.
Another way the XFL is looking to bring more fans to the game of football is by making its games more accessible. Not only are tickets to games significantly cheaper than those of NFL games, the league now airs games on national television. This means you do not need a special television package, life NFL Sunday Ticket, to view games.
In short, the XFL is expanding accessibility to football, and could bring about a new generation of fans. The league is bringing in fresh ideas while promoting the safety of players, and entertainment of viewers.