The Film Industry Needs More Women
The film industry lacks women both on the screen and behind it, and this needs to change. Studies have shown that women make up fewer film creators than men.
The film industry lacks women both on the screen and behind it, and this needs to change. Studies have shown that women make up fewer film creators than men.
To ensure that students and the younger generation feel that regardless of their gender they are equal, a change needs to be made in the film industry so that more women are on screens and behind them.
The battle for women to have the same opportunities as men is an ongoing issue that is highly apparent in the film industry. According to a research study about women in the film industry, 25 percent of creators are females, executive producers are 30 percent female, 40 percent of producers are females, 35 percent of writers are females, 26 percent of directors are female, editors are 21 percent female, and directors of photography are a measly five percent female. This is a non-coincidental pattern that can very much be disheartening to young females hoping to make it in the film industry, like freshman Maria Garcia.
 "I feel like it just makes me a little uncomfortable because filming takes so much time and you do the same amount of work," said Garcia. "I feel like it should be fair."
Women are also under-represented on the big screen itself. 35 percent of films had 10 or more women with roles where the character speaks, whereas 82 percent had 10 or more males with speaking roles. When young aspiring actors look to the screens and see faces that don't match their own, the lack of representation can be a serious setback. 
Studies show that women make up fewer lead actors than men.
"It affects them [students] because they don't get to see the representation of people like themselves on film, on the screen, whether it's a small screen or a big screen, " said Laura Whitten, drama and English teacher.
This data can be challenged with the simple question of whether it's all coincidental, but if you look at the vast majority of the movies made in Hollywood, it's apparent that this is not the case at all. A large number of women characters are poorly written and serve only the purpose of helping, and being a love interest to, the main male character, which explains why there are not as many lead female actors. Reese Witherspoon, a Hollywood actor, addressed this in a speech about women in the entertainment industry when she talked about how women are portrayed in films. 
"She'd [her daughter] be forced to watch a chorus of talented, accomplished women Saran wrapped into tight leather pants, tottering along on very cute, but completely impractical, shoes turn to a male lead and asked breathlessly, "What do we do now?!" Seriously, I'm not kidding. Go back and watch any movie, and you'll see this line over and over, " said Witherspoon.  
Reese Witherspoon's daughter, as well as other members of the younger generation, shouldn't be looking to their screens and seeing themselves as weak characters serving little purpose rather then providing romance to the plot. They need to see complex and strong representations of themselves to ensure they don't feel as though they're  secondary to men.
We need more women in the film industry, and the screens should not be presenting women as side characters made to be love interests for main male characters.
About the Writer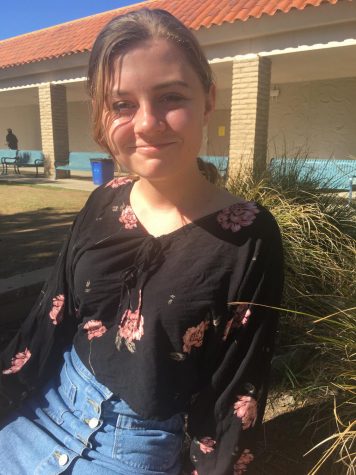 Emma Welsch, Staff Writer
Emma Welsch is a staff writer for the San Pasqual Eagle Eye at San Pasqual High School. She is in 9th grade and her favorite subject in school is writing....