Prevent Yourself From Hands, Foot, and Mouth Disease
Hang on for a minute...we're trying to find some more stories you might like.
This previous month, San Pasqual High School has experienced a spreading outbreak of Hands Foot and Mouth Disease. Hands Foot and Mouth Disease is caused by Coxsackievirus, which is a virus that belongs to a family of single-stranded RNA viruses.
"Hands Foot and Mouth Disease is a virus so it's spread like the flu," San Pasqual school nurse Caroline Akers said.
Many believe that the spread started in the locker rooms with the football team, but there's no real way to find where it originated from. After finding out that this virus was spreading, the custodial staff was sent to clean each locker room to kill the germs.
"I think it started with the football team, but there's no way to truly know who had the first case… our custodians here sanitized the whole locker room once we found out about it. We used hospital grade cleaning supplies to kill the virus," Akers said.
It is shown that this virus can start to spread depending on two ways of contact, one of which is skin to skin. Skin to Skin contact is when you have touched someone but with unwashed hands.
"You want to do frequent hand washing…it's the number one thing you can do to prevent any kind of illness… they say to [even] sing the song Happy Birthday [while doing it]," Akers said.
Another way of contact is direct contact which involves spreading your saliva with others, for example, by kissing or sharing drinks with other people.
"Our students like to share things a lot whether it's water bottles, drinks, or even food… that's where you get your contact. It's not that sharing is bad, but [you shouldn't] share everything," English teacher Keera Berner said.
Those infected would know when that they've developed hands foot and mouth disease upon seeing the symptoms that come with it. The symptoms include a rash on your hands and feet, blister-like lesions on the tongue, gums, and inside of cheeks, a fever, sore throat, and a loss of appetite. If sores do start to develop in the back of your mouth, then you may have a related virus which is called herpangina.
"My teachers Mrs. Greer and Ms. Johanson always make sure we use hand sanitizer every time before we get computers," freshman at San Pasqual Alea Greer said.
Experts agree that it's important to stay clean by washing your hands after using the restroom, before you eat, etc. Sanitizing your hands is another tool to use to stay clean and prevent illness.
"In my classroom, we try to be more conscious of just being healthy in general, whether it comes to the health of our environment or our personal health… once a day we'll do desk cleaning or the kids will sanitize their hands," Berner said.
About the Writer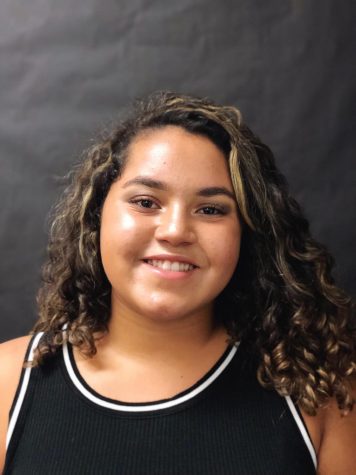 Sophia Rodriguez, Staff Writer
Sophia is a freshman and first year staff writer for the Eagle Eye.