Back to School With New Marquee
With help of many supporters, a new way to advertise San Pasqual High School has been installed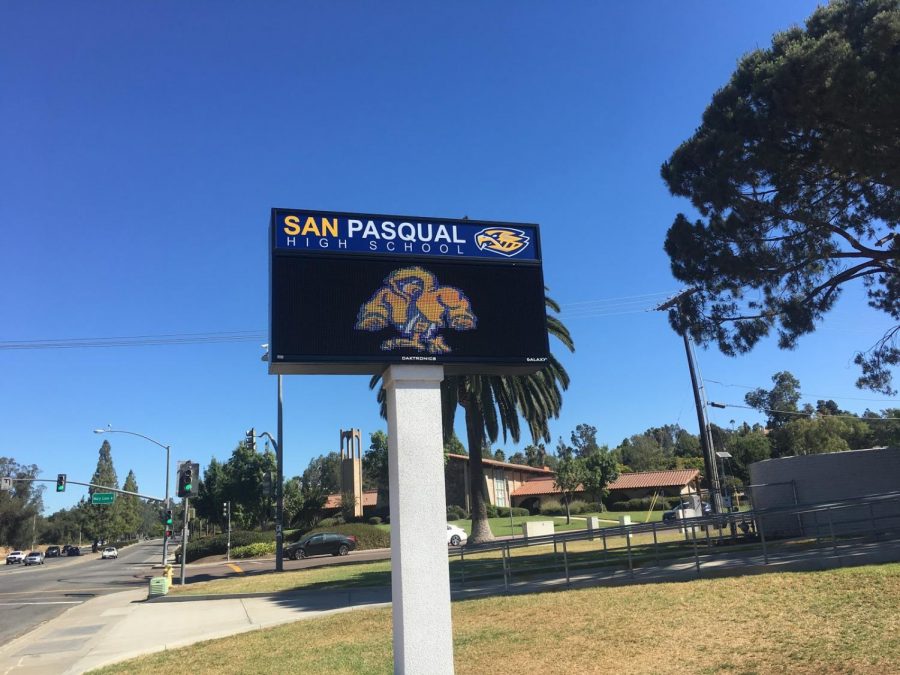 Something new has arrived at San Pasqual High School, and it's not just the freshmen. Driving down the road on your way to San Pasqual, motorists will see something they haven't seen before… something new and vibrant that catches the eye. It's the new San Pasqual marquee.
A brand new electrical sign has been added to brighten our campus. Located right outside the office, this marquee was recently installed on campus on Sept. 13th, 2018.
"The community, faculty and staff felt that the old sign was outdated." San Pasqual principal Martiń Casas said.
The new marquee was made possible by the GoFundMe page started in early August 2018 by Ron Peet, a math teacher who is also a varsity tennis coach at San Pasqual.
"The old sign used a 1995 software that could not run with Windows 11… it was very old," Casas said.
In fact, to display new messages on the old marquee, it would take up to 20 minutes just to open up the software. In addition, the old computers would have to be plugged in for the software to even run it. Windows 11 cannot run such antiquated computer software.  
"In one month, [faculty and staff members, parents, and alumni] raised $ 10,000," Casas said.
The GoFundMe page was a success towards the goal of getting a new marquee. The school district felt that they should help the cause, because they liked the idea of a new electrical sign for San Pasqual. The Escondido school district gave San Pasqual the remainder of the money needed, $35,000 from school funds. The new sign adds a new shine to the front of the campus, with clear, crisp videos and messages.
"We can control this one from our phones," Casas said. "We are now able to put small videos on it."
This is helpful because any small announcements that the school makes would be able to be seen on the sign when students enter or leave the school, meaning students will not have to search for events happening at San Pasqual. Instead, all they will have to do is look up at the marquee to be informed on the events happening at San Pasqual.