Aftermath of Boys Basketball CIF Championship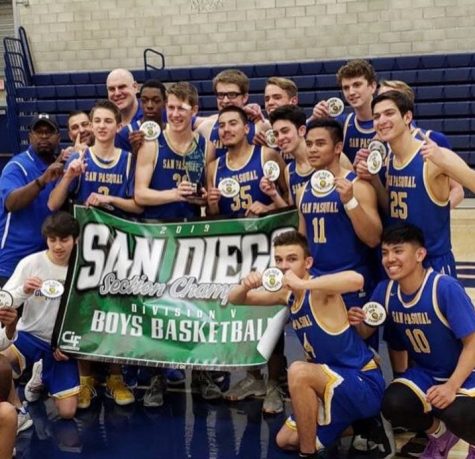 San Pasqual High School's boys basketball team captures first CIF title in 28 years on Thursday, Feb. 21 at Montgomery High School.The San Pasqual High School boys basketball team claimed the California Interscholastic Federation championship on Feb. 21, 2019 at Montgomery High School. They won by a total of seven points with a score of 49-42. It has been 28 years since San Pasqual last won a CIF title. They have been working hard and practicing since the fall.
But, after 28 years of not having a CIF title in boys basketball, the San Pasqual team has brought it home.
"It feels really good being the team to end a 28 year period without a CIF title and getting to bring it back to the school," senior Vernel Fournier said.
The varsity team has pushed themselves to win CIF, starting their practice in the fall to prepare.
"It's a really good feeling, one that I've never felt before, it's very great being able to bring this to our school," Fournier said.
State will be held at Santa Clara University where the boys basketball team will compete to win a state title.
"I'm very excited for state, we are going to Santa Clara and it's about a three hour drive," Fournier said.
As a senior, being able to win a CIF championship is a great feeling that only few can feel.
"It was the best feeling I have ever felt in my high school basketball career. It was super overwhelming because I couldn't believe we actually did it," senior Vojo Danilovic said.
To win a CIF championship, the team must remain composed while still being able to compete at the best ability they can.
"My mentality during the game was to be calm, but also to take over the game. Once we made the playoffs and beat the #1 seed, I didn't have any doubt that we weren't going to win," Danilovic said. "After we won CIF, I felt almost invincible. I was so excited."
As a senior, this is the last year to show what one can do and that person is under pressure to make an impact on the sport and also the school.
"I think I made a significant impact on the basketball program because of my leadership abilities and being able to help my team win CIF and move on to state," Danilovic said.
Since it is the first time in 28 years that San Pasqual has won a CIF title, the boys basketball team has made San Pasqual extremely excited for what the future holds for the basketball program.