Palomar Promise Process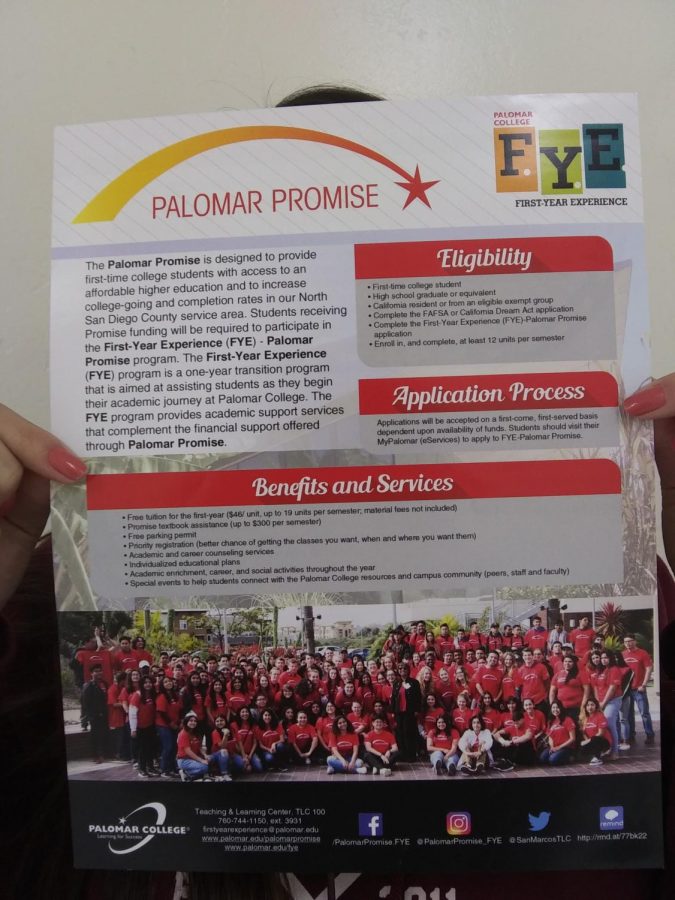 Alexis Quiroz, Staff Writer
March 7, 2019
Palomar College is offering a new program to help senior graduates at San Pasqual High School pay for their college tuition. The Palomar Promise ensures financial support that includes free first-year tuition and textbook assistance as long as students meet all requirements and are committed to the First-Year Experience (FYE).
According to the Palomar Promise website, "Students receiving Promise funding will be required to participate in the First-Year Experience (FYE) – Palomar Promise program. The First-Year Experience (FYE) program is a one-year transition program that is aimed at assisting students as they begin their journey at Palomar College. The FYE program provides academic support services that complement the financial support offered through Palomar Promise." 
To be eligible for the Palomar Promise, students must enroll in Palomar College, apply for FAFSA/Dream Act, and must complete the necessary tasks that confirm their engagement in the program. Applications for the Palomar Promise were available starting November 1, 2018.
During the month of October, San Pasqual High School offered a variety of different workshops for upperclassmen to attend to while underclassmen were taking the PSAT. One of the workshops included The Palomar Promise workshop, intended to help students to enroll at Palomar College and in the program.
Jennifer Saldivar and Nelly Gonzalez are two seniors that applied for the Palomar Promise together during one of the workshops.
"I applied because my AVID teacher Mrs. Byrnes recommended it to us [students]. She wanted us to at least have the first year free," Saldivar said.
San Pasqual High School held a second session for the Palomar Promise workshop on February 5 for students to get the necessary help needed to fill out all important information. During this workshop, most students worked on the second step of The Palomar Promise program.
"The Palomar Promise process wasn't that long. It took me an hour exact because the internet was a bit slow, and I needed some guidance," said Gonzalez. "But it was all worth it!" she said.
The actual Palomar Promise application is a short process to complete within about ten to twenty minutes of reading contracts and signing agreements.
"It took me about 30 minutes to complete. The process was easy, you just have to know basic information," Saldivar said.
The Palomar Promise is essentially helpful for students who would like to transfer to a four-year university after their first two years at Palomar.
"It can help up in the long run because if we transfer to another school we already have some credits," Saldivar said.
Gonzalez has opened up about how she and her family no longer have to worry about swimming in debt by the time she graduates college.
"The Palomar Promise benefits me because it allows me to live close to home without spending much to get an education. I will get the same education as anyone else without the debt," Gonzalez said.
The Palomar Promise is a program designed for all graduated seniors to join. The Palomar Promise runs on a first come, first serve basis; applications should be sent by Summer of 2019. Eligibility is fairly open to most students that are applicable to the FAFSA/Dream Act. Any students that would like to still apply can find information at the Palomar College website.