ASB Strives to Make Homecoming Happen
The ASB class at San Pasqual High School was at work the week leading up to homecoming.
Homecoming is one of the major dances put on each year at San Pasqual High School, but many students are unaware of what goes on behind the scenes. The dance is successfully put on every year under the watchful eye and handiwork of ASB.
"ASB is really fun, (as) I like planning; I like working to put things together. It's amazing (and) it gives me something to do," senior Candy Preciado said.
Although ASB can be fun, there are some stressful commitments that ASB is faced with. One big stressor for them is homecoming week, Preciado explains.
During homecoming week, she said, "I got here at 6 in the morning, and I left at 6 p.m. every day. That was Monday, Tuesday and Wednesday. Thursday and Friday we left school around 10 o'clock at night. And for Saturday, we showed up at 7 in the morning to set up for the dance."
Preciado says that there are many other stressors that contribute to the challenge of homecoming week as well, including others' expectations.
"Making sure everything gets done by the time it's supposed to be done, just because you have to satisfy other people's expectations and give them the image they were imagining when they wanted something to be done," Preciado said.
Steven Laurence Lacuta-Halog, ASB vice president, states what the most stressful part of homecoming to him is.
"The most stressful part of homecoming is probably how everyone is stressed out and you just feel really tired, especially when you are staying here until 9 p.m. to set up for the pep rally, and then coming back the next day super early to get back to work," said Lacuta.
During homecoming week, ASB members often have consecutive days of work before homecoming can occur.
"There's back to back days where you have to come early and stay late. Thursday we had to set up for the pep rally, and we stayed there until about 9 p.m. Then we had to come back in the morning at 7 a.m. After that, Friday, we had the actual pep rally, and then we had to stay for the game. Then the next day, we had to set up for homecoming," says Halog.
Despite the apparent stress and pressure that was present leading up to homecoming, Delayni Pangonis, head of the dance committee, believes that all of ASB's hard work was worthwhile in the end.
"I would consider all of our hard work to (have) paid off during this year's homecoming, because of the record-breaking number of attending students and how many good reviews and comments we got on it." said Pangonis."Seeing how many kids got to enjoy their homecoming and have fun the way they did is really what makes being the head of dance worth it."
With a spirit week, a homecoming game, a pep rally, and the homecoming dance itself to worry about, ASB managed to put on a homecoming that many students enjoyed.
About the Writer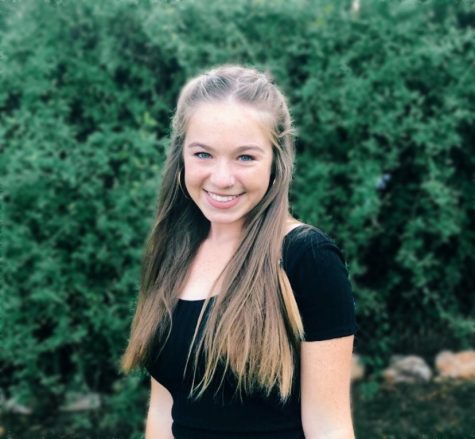 Maddie Harding, Staff Writer
Maddie Harding is a staff writer for the eagle eye newspaper. She is in 12th grade at San Pasqual High School in Escondido, California. Maddie grew up...